YC Water Jet Cooperates With The HYPERTHERM Of USA And Gain Global Customers' Favor
Views:60 Author:YC Water jet Technology Co.,Ltd Publish Time: 2016-07-05 Origin:Site
In recent years, more and more foreign customers began to favor YC water jet.Why?Because YC water jet began to dedicated to the research and development and manufacture of water jet cutting machine since 2005 . Base on the water jet cutting machine in low noise ,no pollution and stable performance,we YC water jet also absorb the water-jet technology of Europe and the United States.And we has been cooperated with the KMT of Germany, Accustream or Hypertherm of United States for long-term , so now we have achieved the perfect optimization of water jet cutting system .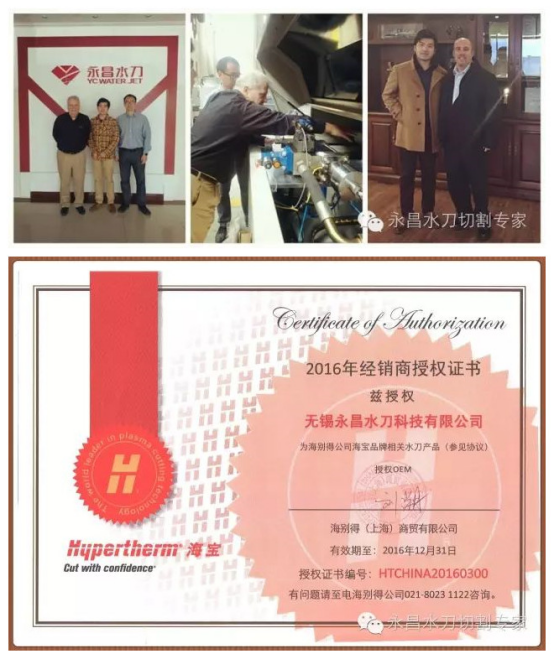 In 2013,Accustream was bought out by Hypertherm of United States. And Accustream is specialized in the production of water jet cutting products manufacturer, headquartered in Minnesota. As everyone knows the water jet technology of American is the world first-class, and Accustream is the leader of American water product manufacturing industry.
So far, YC water jet has teamed up with the ACC more than 5 years.The headquarters of Hypertherm in the United States also attaches great importance to our cooperation and sends commissioner to visit our company and discusses the further direction of cooperation every year. Collaboration now has nearly 8 years, YC water jet has not only rely on ACC accessories to ensure the stability of the products and improve the quality of the products, more is absorbed the sophisticated technology into our products. Whether external design or internal structure, are more and more attractive.
Now we have sold our products to about 48 countries all around the world,and we have agents and partners in UK,Hungary,South Africa,Cameroon ,Lebanon and Iran and so on.
This was the customers come from Iran visited our company in Dragon Boat Festival , and our professional team were explaining technical problem for them.
Besides,the customer comes from Algeria visited our factory again and signed the contract with us.